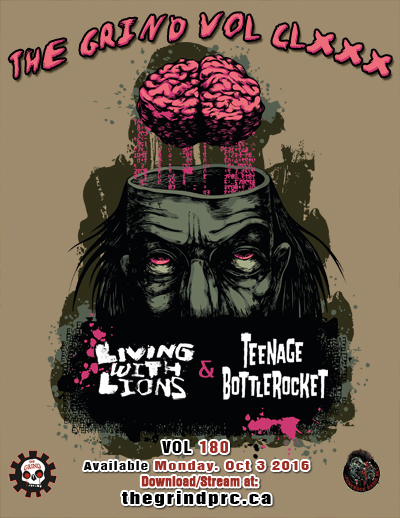 Right Click To
Left click to stream
(Show may take a few moments to buffer depending on server load)
In Volume 180 of the Grind, Calgary correspondent Stacey Steel catches up with a couple of friends of the show, Vancouver's Living With Lions and Wyoming's Teenage Bottlerocket!
They talk about upcoming tours, new albums, new band members and more. And of course, we spin some rad tunage from each band in the midst of the interviews.
Hit play. Turn up. Enjoy!

00:00:00

0:00:00
Ray from Teenage Bottlerocket ID
(Headbanger clip)
0:00:17
Show intro with Stacey Steel
0:00:26
Living With Lions Interview Feature
Honesty, Honestly - (Holy Shit - '11)
0:03:41
Living With Lions Interview Seg #1
0:09:11
Cold Coffee - (Make Your Mark '08)
0:12:12
Living With Lions Interview Seg #2
0:19:14
A Bottle of Charades - (Make Your Mark '08)
0:22:50
Living With Lions Interview Seg #3
0:26:59
Between The Lines - (Some of My Friends Appear Dead To Me '13)
0:30:56
Living With Lions Interview Seg #4
0:36:28
She's A Hack - (Make Your Mark '08)
0:39:30
Teenage Bottlerocket Interview Feature
Headbanger - (Freak Out '12)
0:41:39
Teenage Bottlerocket Interview Seg #1
0:46:31
I Found The One - (Tales From Wyoming '15)
0:48:49
Teenage Bottlerocket Interview Seg #2
0:55:35
They Call Me Steve - (Tales From Wyoming '15)
0:57:55
Teenage Bottlerocket Interview Seg #3
0:59:31
Ray Rocket - Do You Wanna Go To Tijuana - (Do You Wanna Go To Tijuana '16)
1:02:17
Teenage Bottlerocket Interview Seg #4
1:05:13
Punk House Of Horror - (Freak Out '12)
1:06:52
Teenage Bottlerocket Interview Seg #5
1:09:49
Never Gonna Tell You - (Freak Out '12)
1:11:52
Ray Rocket - Pet Sematary - (Do You Wanna Go To Tijuana '16)