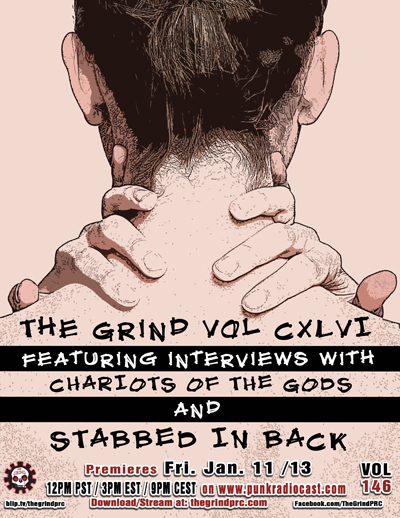 Right Click To

(Show may take a few moments to buffer depending on server load)

Welcome to the our 1st show of the New Year, and our first shuteow of Season 6!
2 Interviews in this volume ; Stacey Steel chats with Yuri, bassist for Albuquerque, New Mexico's Punk Rock / Hardcore band Stabbed In Back. Yuri talks about the band's influences, their association with Dang!Records and Warbird Entertainment, Tour life and their forthcoming music video.
Chris talks with Dimitri and Matt from Ottawa Metal band Chariots Of The Gods about their debut full length "Tides Of War", working with legendary producer Glen Robinson, and a bit of NHL politics.
We fill out the rest of the show wit Fat... Wreck Chords releases out this week,from Less Than Jake, and Snuff. Along with a couple tracks off of those new albums, we also spin some NOFX, and a track from Canadian tech-punks Choke.
We'll be talking to Choke about their upcoming "Dead Band Touring" reunion dates as well as a talk with Pulley in next week's show

Duration: 1hr 18 Mins
Cuesheet coming soon - had some issues with our logger.
Rough cuesheet:
17 minute mark - Stabbed in Back Interview
40 minute mark - Chariots Of The Gods Interview