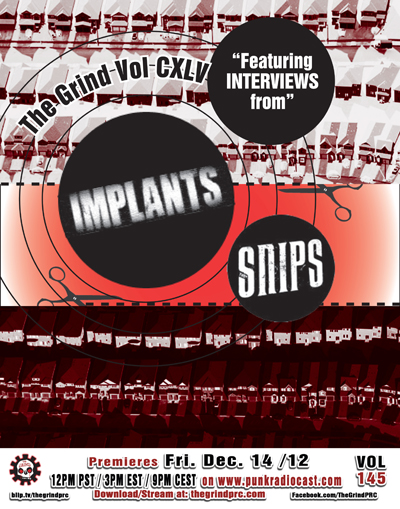 Right Click To

(Show may take a few moments to buffer depending on server load)

Merry Mas Chris from The Grind!
In what turned out to be our last show before Christmas, we round up the Chris' for this volume. Chris has a chat over the phone with Chris from Ontario's The Snips about their latest album Highs of Low and some winter tour dates in Ontario, and Quebec.
3/4ths of the Grind crew catch up with Implants at their 1st international performance in Calgary at the start of December. Following their show, we cornered 3/5ths of the band in their hotel room to see if we could get a solid release date for their forthcoming full length that so many people are patiently awaitng. No date yet, but towards the end of the interview singer Ken Conte joined Chris Dalley, Chris Del Rio and Jim Blowers to talk about some upcoming gigs for the band.
Psst, Here's their Calgary Performance:
Also in the show, we bring you 3 From The MailBox features on:
--> Enemyus (Calgary Metal)
-->No Big Deal (Ecuadorian Melodic Punk)
--> Nervous Wreck (Edmonton Punk)

Duration: 1hr 34 Mins
0:00:00
Artist ID
Chris from The Snips
- (Highs of Low '12)
Ken, Jim, Chris and Chris from Implants
Life Passes - (4 song Sampler '12)
0:03:39
Show Intro
0:04:30
FTMB Feature on Enemyus
You Won't Lie Down - (The Worth Of Man '11)
0:09:07
Hard Bitten - (The Worth Of Man '11)
0:12:45
Tits - (The Worth Of Man '11)
0:15:12
Interview Feature on Implants
These Walls - (4 song Sampler '12)
0:18:37
Implants Interview Seg #1
0:21:32
Once Was I - (4 song Sampler '12)
0:25:35
Implants Interview Seg #2
0:29:39
Parallel - (4 song Sampler '12)
0:33:40
FTMB Feature on No Big Deal
Jetlagunder - (4way Split - The New Onda Is Like A Mera Shit '11)
0:37:52
Freckles - (5way Split - It's No Big Deal That Billy Meier Reset Their Brains in 69 Seconds On Mercy Street '12)
0:41:39
12 and 2AM - (Upcoming Album '12)
0:45:01
Pulley - The Long And The Short Of It - (The Long And The Short Of It '11)
0:47:39
FTMB Feature on Nervous Wreck
Understand - (Walking Distance EP '12)
0:50:37
Down - (Walking Distance EP '12)
0:52:53
Help Me - (Walking Distance EP '12)
0:55:55
Interview Feature on The Snips
Dirty Water - (Highs Of Low '12)
0:59:35
The Snips Interview Seg #1
1:06:29
Blood Maps - (Highs Of Low '12)
1:09:25
The Snips Interview Seg #2
1:14:17
O' Brother - (Highs Of Low '12)
1:18:34
The Snips Interview Seg #3
1:21:27
Microscope - (Highs Of Low '12)
1:25:12
The Snips Interview Seg #4
1:31:11
Times - (Highs Of Low '12)