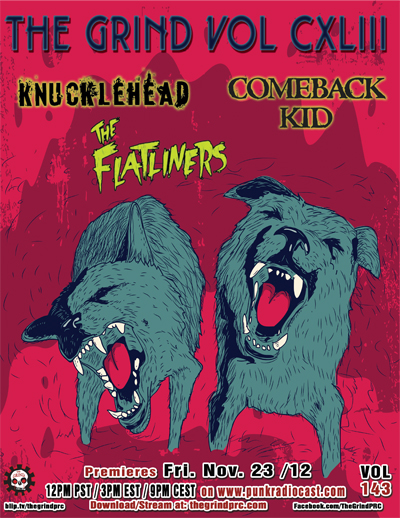 Right Click To

(Show may take a few moments to buffer depending on server load)

Three interviews in Volume 143 of the Grind PRC - and all conducted by Stacey Steel.
Currently touring, Comeback Kid was in Calgary when Stacey caught up with Andrew Neufeld (AKA Goose) to talk about the bands current tour, plans for 10 years as a band, their side projects and more.
Also in Calgary was where Stacey talked with Jimmy James from cow-town street punk institutuion Knucklehead about their trip to tour Cuba as part of Solidarity Rock, their affiliation with Pirates Press and what the fuck!? coming up on 20 years as a band.
Knucklehead will be supporting The Flatliners on some of the Western dates of their Ten Years at Sea tour. Stacey called up Chris Cresswell from the Flats to discuss their recent touring, The Fest, effects of being together 10 years as a band and more.

Duration: 1Hr 36Mins
0:00:00
Artist ID
Andrew from Comeback Kid
- Broadcasting - (Broadcasting '07)
0:00:38
Jimmy James from Knucklehead
- Boomtown - (Hearts on Fire '10)
0:00:58
Chris from The Flatliners
- Scumpunch! - (Destroy To Create '05)
0:01:25
Show Intro
0:02:04
Comeback Kid Interview Feature
- Conducted by Stacey Steel
Balance - (Symptoms + Cures '10)
0:05:56
Comeback Kid Interview Seg #1
0:11:11
Magnet Pull - (Symptoms + Cures '10)
0:13:59
Comeback Kid Interview Seg #2
0:16:57
Step Ahead - (Turn It Around '03)
0:18:32
Comeback Kid Interview Seg #3
0:22:51
G.M. Vincent & I - (Symptoms + Cures '10)
0:26:28
Knucklehead Interview Feature
- Conducted by Stacey Steel
The Kids Are All Right - (Little Boots '98)
0:28:39
Knucklehead Interview Seg #1
0:32:58
Rock, Rhythm & Boots - (Hearts On Fire '10)
0:35:25
Knucklehead Interview Seg #2
0:41:21
Sense In Politics - (Hearts On Fire '10)
0:43:50
Knucklehead Interview Seg #3
0:50:12
Restless Heart - (Hearts On Fire '10)
0:52:24
Knucklehead Interview Seg #4
0:56:04
Bigger Bombs For A Better Tomorrow - (Hearts On Fire '10)
0:58:29
Slates - DNR - (Prairie Fires '11)
1:01:24
The Flatliners Interview Feature
- Conducted by Stacey Steel
Gullible - (Demo '02)
1:05:13
Flatliners Interview Seg #1
1:11:02
Snips - Meeting Place - (Highs of Low '12)
1:13:54
Flatliners - Filthy Habits - (Cavalcade '10)
1:16:17
Flatliners Interview Seg #2
1:19:19
Macoretta Boozer - (Destroy To Create '05)
1:22:37
Flatliners Interview Seg #3
1:25:39
Quality Television - (Destroy To Create '05)
1:28:30
Flatliners Interview Seg #4
1:32:25
Bad News - (Destroy To Create '05)