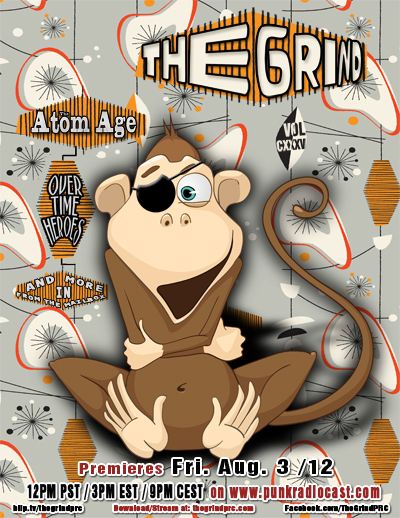 Right Click To

(Show may take a few moments to buffer depending on server load)

We start the show off with a little tribute to the recently deceasedTony Sly.
Then 2 Interviews in this one, Chris talks with Ryan from The Atom Age about a few things including their upcoming Canadian tour dates and their latest album, The Hottest Thing That's Cool.

Marc Ryan talks with Steve from Overtime Heroes for a mini update about the band, Steve's involvement with Polarity's new video and more.

We'll also be hearing from some great From The MailBox featured bands like:
-> Lipona (Florida) - their new album Networks just came out this week and we'll be spinning 3 tunes for ya

-> The Fear (UK)
Technical, aggressive, intense and still melodic

-> Surefire Loss (California)
Fast punk rock with melody

-> Drones (UK)
Lyrically concious fast music with a tinge of crust

-> Dark Century (Montreal)
Heavy and aggressive metal featuring the drummer from Reset


Duration: 1 Hrs 48 mins
0:00:00
Artist ID & Show Intro
0:01:38
Tribute to Tony Sly
0:02:29
Chasing Rainbows - No Use For A Name (More Betterness! '99)
0:05:35
International You Day - Tony Sly - ( Acoustic w/ Joey Cape '04)
0:09:11
FTMB Feature Segment on Lipona
- Followers - (NEW Networks '12)
0:14:07
- On Giants - (NEW Networks '12)
- The River - (NEW Networks '12)
0:20:22
FTMB Feature Segment on The Fear
- The Bitter Taste - (Here Goes Nothing '12)
0:24:38
- Heavy Hearts & Bloodshot Eyes - (Here Goes Nothing '12)
0:29:16
- There Lie Better Days Ahead - (Here Goes Nothing '12)
0:33:37
Interview Feature on The Atom Age With Ryan Perras
- conducted by Chris
- Dig The Future - (The Hottest Thing That's Cool '12)
0:36:05
The Atom Age Interview Seg #1
0:39:16
- The Hottest Thing That's Cool - (The Hottest Thing That's Cool '12)
0:42:44
The Atom Age Interview Seg #2
0:44:54
- I, Hypnotize - (The Hottest Thing That's Cool '12)
0:47:42
The Atom Age Interview Seg #3
0:50:04
- Nothing Ever Changes - (The Hottest Thing That's Cool '12)
0:53:48
FTMB Feature on Surefire Loss
- Weak Knees - (Finally, The Beginning EP '11)
0:57:49
- When Frank Dux Sold Out - (Finally, The Beginning EP '11)
1:01:08
- The Jester - (Finally, The Beginning EP '11)
1:05:52
FTMB Feature on Drones
- The Jester - (Mutiny '11)
1:08:40
- Call Your Own - (Mutiny '11)
1:10:45
- Assassins Of Youth - (Mutiny '11)
1:13:33
FTMB Feature on Dark Century
- Kill The Crowd (NEW forthcoming album '12)
1:18:04
- Viande Froide - (Days of The Mosh '08)
1:20:53
- Muncherz - (Days Of The Mosh '08)
1:24:52
Interview Feature on Steve Ferriera of Overtime Heroes
- conducted by Marcus
- Open Hands (Demo '11)
1:30:06
Overtime Heroes Interview Seg #1
1:33:09
Steve Steve Steve - Booze Cruise - (Moose Stuff '11)
1:35:04
Overtime Heroes Interview Seg #2
1:38:13
Tug Of War - Polarity - ( S/T EP '11)
1:41:06
Overtime Heroes Interview Seg #3
1:45:26
Decisions - Overtime Heroes - (Demo '11)