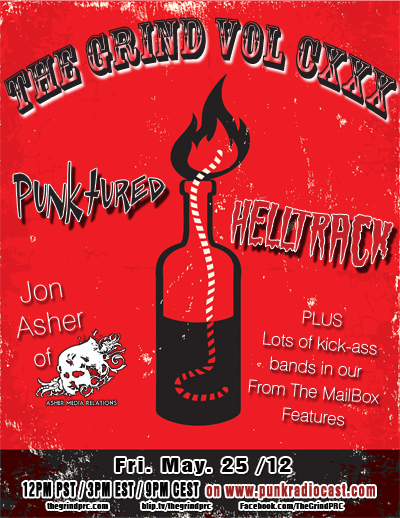 Right Click To

(Show may take a few moments to buffer depending on server load)

After an unplanned, month-long hiatus, The Grind PRC is back with Volume 130!
We've got 3 interviews we've conducted in the last little while including Wainwright AB's Punktured, Medicine Hat's Helltrack, and an chat that Ottawa correspondent Marcus had with Montreal based DIY music/media relations guru Jon Asher from Asher Media Relations.
All that and a bunch of great artists and songs featured in From The MailBox segments within the show like Legoman Haircut, and The Rabid Whole.
We also spin a couple tracks from Born Wrong off of the forthcoming (June) 10" split co-released by Harvest King Records (Regina) and Rebel Time Records (Hamilton)
Also tune in for a track from France's Melodic Punks Hogwash who will be touring Quebec and Ontario for 7 dates starting June 3!

Duration: 1Hr 40ishMin
0:00:00
Show Intro/Artist IDs
0:03:49
Waking Up - Friends With The Enemy - (Removals Comp '12)
0:06:26
Russian Standard Of Care - Hogwash - (Sticker Paralysis '10)
0:09:50
Burn A Debt - Born Wrong - (Harvest King/Rebel Time Records Split 10" with Kleins 96 '12)
0:11:54
Party Banter - Born Wrong - (Harvest King/Rebel Time Records Split 10" with Kleins 96 '12)
0:13:28
Punktured Interview Feature
-with Chris Burnside
Uninvited - (A Killing Of The Silence '12)
0:16:19
Punktured Interview Segment #1
0:19:55
Down The Drain - (A Killing Of The Silence '12)
0:22:02
Punktured Interview Segment #2
0:26:18
Parkbench - (A Killing Of The Silence '12)
0:31:49
FTMB Feature on Legoman Haircut
Billy The Kid - (Debut EP '11)
0:34:05
Weather - (Debut EP '11)
0:37:53
Feedback Destroyer - (Debut EP '11)

0:40:08
Helltrack Interview Feature
-with Chris Burnside
The Year We Make Contact - (The Year We Make Contact '11)
0:44:35
Helltrack Interview Segment #1
0:47:08
No Mercy - (The Year We Make Contact '11)
0:48:59
Helltrack Interview Segment #2
0:51:52
Being An Asshole Is Your Pre-Existing Condition - (The Year We Make Contact '11)
0:54:24
Helltrack Interview Segment #3
0:56:11
Fuck You Freddy Fernandez - (The Year We Make Contact '11)
0:59:49
FTMB Feature on Rabbid Whole
Future - (Refuge '12)
1:04:40
Corporate - (Refuge '12)
1:08:47
Delusion - (Refuge '12)
1:12:45
Interview with Jon Asher from Asher Media Relations
-with Marcus
This World In Flames - All Else Fails - (The Oracle, What Was, Is And Could Have Been –'11)
1:16:53
Jon Asher Interview Segment #1
1:22:09
The Succubus - Tribune - ( Elder Lore / The Dark Arts '12)
1:25:23
Jon Asher Interview Segment #2
1:29:32
Nightfall - Titan's Eve - (The Divine Equal '11)
1:32:32
Jon Asher Interview Segment #3
1:36:03
Killer - Versus The Nothing - (Black Gloves EP '11)