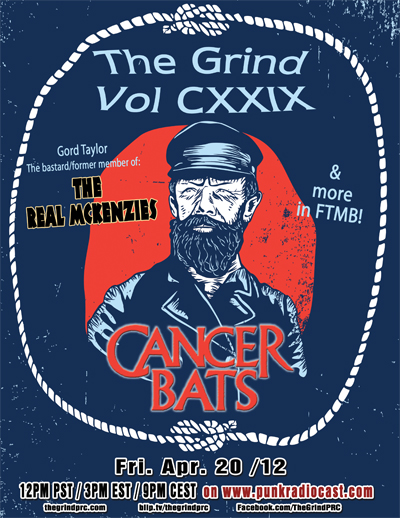 Right Click To

(Show may take a few moments to buffer depending on server load)

Volume 129!
Stacey Steel caught up with our favourite hardcore Canadians, Cancer Bats during the Easter weekend while on tour through Calgary.
Stacey interviewed Jaye (Bass) & Liam (Vox) about their 4th release that dropped this week ' Dead Set On Living ' (DSOL).
Before the interview, the Bats' also played an All-Ages show, and were prepping for the late bar show.. I highly recommend checking out their live set -It ripped!
Our interview includes talk about DSOL, how it differs from their previous albums, and what's up for their upcoming massive touring schedule, and more shenanigans you'll have to tune in to find out!

Chris also chats with Gord Taylor, the Bastard/piper from Vancouver's The Real McKenzies about their new album "Westwinds", his mid-tour departure from the Clan at the start of the year, and what he's up to now.

Plus, an exclusive track from School Damage will be hitting this volume as the band gets ready to release their Self Titled EP later this month!
And we'll get you hooked on this new Toronto band Take Drugs
As always, tune in on PRC or stream/download whenever you want: Pants optional.


Duration: 1Hr 20Min
0:00:00
Show Intro / Artist IDs
Taylor Made - The Real McKenzies
0:00:20
Old Blood - Cancer Bats
0:01:49
Broadcast Debut of NEW song from School Damage
Checking Out - (forthcoming S/T EP '12)
0:04:14
FTMB Feature on Take Drugs
I Hate The World - Take Drugs - (NEW Got Destruction EP '12)
0:05:57
Be Erased - Take Drugs - (NEW Got Destruction EP '12)
0:08:26
Gord Taylor (Former Piper with The Real McKenzies) Interview Feature
-With Chris Burnside
I Do What I Want - (NEW Westwinds '12)
0:11:38
Gord Taylor Interview Seg #1
0:14:31
The Bluenose - (NEW Westwinds '12)
0:17:25
Gord Taylor Interview Seg #2
0:20:52
The Message - (NEW Westwinds '12)
0:24:43
Gord Taylor Interview Seg #3
0:28:29
My Luck Is So Bad - (NEW Westwinds '12)
0:31:22
Gord Taylor Interview Seg #4
0:35:37
Fool's Road - (NEW Westwinds '12)
0:38:30
Amethyst - Attitude To Aggression - (Time of Slaughters '11)
0:43:41
Cancer Bats Interview Feature
-with Stacey Steel
Bricks And Mortar - (NEW Dead Set On Living '12)
0:47:29
Cancer Bats Interview Seg #1
0:50:41
Drunken Physics - (NEW Dead Set On Living '12)
0:54:37
Cancer Bats Interview Seg #2
0:58:31
Old Blood - (NEW Dead Set On Living '12)
1:01:15
Road Sick - (NEW Dead Set On Living '12)
1:04:00
Cancer Bats Interview Seg #3
1:08:29
Dead Set On Living - (NEW Dead Set On Living '12)
1:11:26
Cancer Bats Interview Seg #4
1:16:27
New World Alliance - (NEW Dead Set On Living '12)