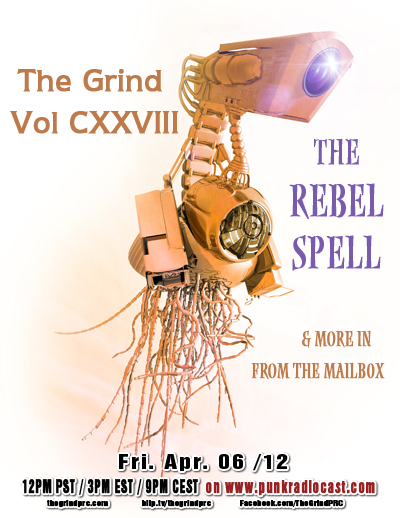 Right Click To

(Show may take a few moments to buffer depending on server load)

A mix of political street punk, grindcore and hardcore in Volume 128!
We check out some tunes from DIY Collective label; Minor Bird Records including hardcore from Squalora, Ambassador Gun, and Grindcore from Semen Segal.
A new track from Alberta's Punktured from their forthcoming & 3rd release, "A Killing Of The Silence".
And we'll also hear Stacey Steel's conversation with Todd from The Rebel Spell. Dealing with reaction to their latest record, why they do it DIY, European tour plans for the fall and more.

Duration: 1Hr 2 Min
0:00:00
Artist ID / Intro - Todd from The Rebel Spell
0:01:15
See Through - The Rebel Spell - (Expression in Laymen's Terms '03)
FTMB Pack from Minor Bird Records
0:03:55
Killed By Dolfins - Squalora - (Hell is Other People '11)
0:06:42
Consistency - Squalora - (Hell is Other People '11)
0:12:02
Eat Bullets - Semen Segal - (Eat Bullets 7" '09?)
0:15:03
I Keep A Shotgun on My Fridge - Semen Segal - (Eat Bullets 7" '09?)
0:16:20
Promise Of Rest - Ambassador Gun - (Rich 7" '11)
0:20:01
Dynasty - Ambassador Gun - (Rich 7" '11)
0:23:32
Opposition - Punktured - (NEW A Killing Of The Silence '12)
0:27:13
Interview Feature on The Rebel Spell
- with Stacey Steel
0:28:39
It's A Beautiful Future - The Rebel Spell - (It's A Beautiful Future '11)
0:31:48:00
The Rebel Spell Interview Seg #1
0:34:45
- Mover of Movers - (It's A Beautiful Future '11)
0:38:09
The Rebel Spell Interview Seg #2
0:41:45
- Feel The Same - (It's A Beautiful Future '11)
0:44:13
The Rebel Spell Interview Seg #3
0:47:54
- I See Fire - (Expression In Laymen's Terms '03)
0:51:12
The Rebel Spell Interview Seg #4
0:54:39
- All We Want - (It's A Beautiful Future '11)
0:57:10
The Rebel Spell Interview Seg #5
0:58:31
- The World Turned Upside Down - (It's A Beautiful Future '11)