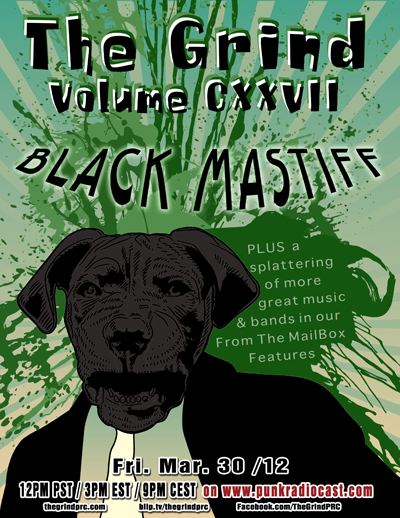 Right Click To

(Show may take a few moments to buffer depending on server load)

We're keeping with the sludgy-stoner rock feel for our main interview in this week's show!
Chris recently chatted with the trio in Black Mastiff following their show at The Root in Lloydminster. Along with hearing some new tracks off of their very recently released new full length album "Pyramids", they discuss challenges during the recording process (like having to scrap their first attempt), aging and its' affect on musical evolution and tastes, and a lot more (including an update on Passenger Action)
We've also got some fan-fucking-tastic FTMB features on bands like:
-> Junkyard Lipstick (Cape Town, South Africa / Punk Rock)
Dirty hardcore-hot-rock with a thrash of punk!

-> Sabertooth (Calgary/AB)
Pop-Punk Rock
-> Rebuild/Repair (Edmonton/AB)
Sludge/stoner punk

Duration: 1 Hr 33 Mins
0:00:00
Black Mastiff Intro
0:00:18
All The Right Things - Black Mastiff - (NEW - Pyramids '12)
Show Intro
0:01:30
FTMB Feature on Junkyard Lipstick
Reality TV - (forthcoming Girls on the Rampage EP '12)
0:05:04
Girl Cell - (forthcoming Girls on the Rampage EP '12)
0:08:33
Manic Moronic - (forthcoming Girls on the Rampage EP '12)
0:11:09
FTMB Feature on Sabertooth
Crushing Seconds - (Making Light of a Shitty Situation '11)
0:14:11
Weasel Kid - (Making Light of a Shitty Situation '11)
0:16:49
See Ya In Bridgeland - (Making Light of a Shitty Situation '11)
0:19:36
Announcement of The Brat Attack's 10 year celebration cross Canadian Tour
Enemy - Brat Attack - (From This Beauty Comes Chaos And Mayhem '06)
0:23:26
They Know! - The Rebel Spell - (4 Songs About Freedom '07)
0:28:26
Announcement of The Rebel Spells Cross Canadian Tour
0:29:13
Current Occupants - The Rebel Spell - (It's A Beautiful Future '11)
0:31:38
FTMB Feature on Rebuild/Repair
Summary - (NEW Summary EP '12)
0:33:18
A Familiar Voice - (NEW Summary EP '12)
0:39:03
Eschatology - (NEW Summary EP '12)
0:42:41
Interview Feature on Black Mastiff
Hot Potatoe - (S/T EP '10)
0:46:59
Black Mastiff Interview Seg #1
0:50:58
Dog - (NEW Pyramids '12)
0:57:01
Black Mastiff Interview Seg #2
0:59:32
Where To Go - Headband - (Myspace '09)
1:02:18
Rolling - Black Mastiff - (NEW Pyramids '12)
1:06:00
Black Mastiff Interview Seg #3
1:10:48
The Road - (NEW Pyramids '12)
1:12:47
Surface Issues - Passenger Action - (S/T '09)
1:15:11
Black Mastiff Interview Seg #4
1:18:52
Pyramids - (NEW Pyramids '12)
1:21:43
Black Mastiff Interview Seg #5
1:27:17
Stoned Wolves - (NEW Pyramids '12)