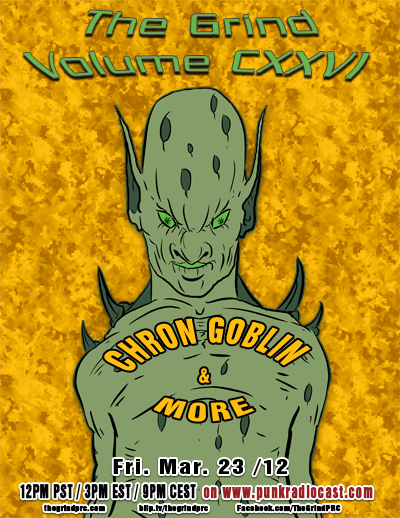 Right Click To

(Show may take a few moments to buffer depending on server load)

In this volume, we'll hear a recent conversation Stacey Steel had with Calgary's Chron Goblin: discussing their most recent release "One Million From The Top", genrefication, their plans so far for this year, and more.
They slay pretty good so definitely check these guys out!
They are playing Calgary at next week's AntiFreeze Fest hosted by Sled Ssland, definitely hit that up if you're in Cowtown!

We'll also be hearing from a few From The MailBox featured artists including:
-> Tribune (Epic Metal from Burnaby/Canada)

->HEADONS (Swedish Punk Rock)

and a few more kick-ass tunes blended in for the hell of it!

Duration: 1Hr 17mins
0:00:00
Show Intro / Artist ID
0:01:28
FTMB Feature on HEADONS
Once Upon - (NEW THREEPOINTFIVE '12)
0:04:10
Someone Else - (NEW THREEPOINTFIVE '12)
0:07:02
Glassbowl - (NEW THREEPOINTFIVE '12)
0:08:26
Night Letters - Propagandhi - (Supporting Caste '09)
0:12:10
Termites - Protest The Hero - (Scurrilous '11)
0:16:57
FTMB Feature on Tribune
The Succubus - (NEW Elder Lore / The Dark Arts '12)
0:20:57
Man On The Outside - (NEW Elder Lore / The Dark Arts '12)
0:26:14
We, The Black - (NEW Elder Lore / The Dark Arts '12)
0:32:24
Interview Feature on Chron Goblin with Stacey Steel
One Million From The Top - (One Million From The Top '11)
0:37:28
Chron Goblin Interview Seg #1
0:41:05
Bring Your Idols - (One Million From The Top '11)
0:46:09
Chron Goblin Interview Seg #2
0:51:59
Come Underground - (One Million From The Top '11)
0:56:27
Chron Goblin Interview Seg #3
0:59:41
Make You Mine - (One Million From The Top '11)
1:03:35
Chron Goblin Interview Seg #4
1:10:27
Suicidal Sewer Bomber - (One Million From The Top '11)