Do you have an album for review you'd think would fit here? Drop us a line at reviews@thegrindprc.ca and we'll hash it out!
We are currently looking for some fellow punk rock fans to help us review new material - interested? Please get in touch using the address above.
The opinions expressed by the following reviewers do not necessarily reflect the views of the The Grind. But since we've posted them, maybe they do??

---
---
Honolulu Breakdown - "Billy Goat" EP (2016)
German skate punk speedsters Honolulu Breakdown have just released a new 6-song EP,"Billy Goat" (2016-02-18) which is available by digital means through Less Talk, More Records. The recording, mixing and mastering was all done DIY style by the band's drummer, Fab, at his home.
First off, as per the aforementioned opening, s-p-e-e-d is the key word with these guys and I'm not talking about the methamphetamine. The HB guys have always stuck to that formula from day one and I honestly can't think of another punk rock act that keeps that same intense speed throughout a record. The prime reason for this feature is of course the man who keeps the tempo for the band aka the drummer.
"A Language We Don't Understand" starts this beast up with no BS, simply a fast start and aggressive vocals that breaks down what you will hear throughout the EP. I love it around the 2:03 mark when the song breaks down and gives you glimpse of "The Void" (see later). "Surprise, Surprise" has my favourite part at around the 1:03 mark due to the fantastic bass pedal stop & go's and guitars. And "The Void", with its slow alternative rock feel, is beautiful and you really get a sense that HB could very well write a gem of a rock album. But don't be fooled since with "The Void", you just know that at some point it will start to rage all the while keeping that same feel from the intro.
In a time where many people say punk rock is dead, it's underground bands like Honolulu Breakdown that keep it alive not only by only staying true to their roots but by putting out a release via their own agenda. Life is busy, things change from year to year due to many factors but what doesn't change is a band's passion to write music. I appreciate a band who takes their time to write their best release – it's not always about quantity in this day and age, it's all about quality for me.

Marc / The Grind - PunkRockRadio

---
CLIPWING ~ ASHFORD
Album Review 2015
Release Date: January 15, 2015
Coffee Breath & Heartache // Laserlife Records
Previous members of High Five Drive, Doc Brown, Prophet
Members: Martin LaFreniere, Randy Frykas, Steve Nelson & Steve Jowsey
Clipwing are a melodic punk band, based out of Winnipeg, Manitoba Canada.
The album 'Ashford' is incredible. 'Ashford' is a 5 track album of energetic, melodic, passionate punk rock. This is the bands second release, following their split LP with French punks Icons Down!, which was released July 2014 through The Newform Label.
In addition to this, the digital download comes with 6 extra bonus tracks (demos and acoustic) further adding value to this release, showing real dedication from the artist.
For those disillusioned with the current music scene, here's something fresh, fierce, and from the heart. It doesn't disappoint, except in the sense that it's disappointing that more people don't know about them. 'Ashford' is absolutely excellent, and will really hit home with fans of this style of punk rock music.
The band enlisted Chris Hannah (Propagandhi) for recording and engineering duties, and the four of them hunkered down to track this EP mid-2014.
The musical progression of Clipwing can be told in a myriad of ways, with lyrics shooting at you quicker than your brain can comprehend them; Clipwing have all the "hard and fast" of a Bad Religion or NOFX, however, the band infuses it with some beats similar to the Flatliners, and interesting slow-down change-ups that really intrigue me. The bass work is excellent and the vocals on point. LaFreniere's throaty rasp leads the way throughout the skate punk rhythms. This record is fun, well-written, and is a great blend of punk rock sounds and change-ups.
'Ashford' is the sound of a talented band consciously pushing themselves as far as they can go in terms of musicianship and song writing and in doing so they have created a record that puts many of punk's elder statesmen to shame.
~Stacey Steel
www.thegrindprc.ca // www.punkrockradio.net
Check out Clipwing: Twitter: @Clipwingmusic * facebook.com/clipwingmusic * Bandcamp: clipwing.bandcamp.com
---
Trash Candy Online
Trash Candy - "Running from Something, Searching for Anything" (Mascom - 2013)
Whenever I mention Slovenia to a geography challenged person I always get the same response: "Slovenia? Where the hell is that!?" If I know they are into hockey I just
say Anze Kopitar and I get a sigh but even though Slovenia has a population of just over 2 million, it has beautiful protected areas and natural resources plus it hosts
Punk Rock Holiday each summer! Yes, the area is small and it borders better known countries but for me personally, it has caught my attention the last few years due
to it's excellent forte of bands.
One of these bands, which also captures a diverse audience, has to be none other than the female fronted Trash Candy. The five piece act play an infectious rockin'
pop punk style. One of its members is Jernej Metez (Pinky) who also plays guitar for one of my favourite bands, Low Value. His two bands are complete opposites, on one
side you have fast melodic hardcore in Low Value and the other, a more mainstream / listener friendly sound in Trash Candy.
With the band's second album, "Running from Something, Searching for Anything", you get reeled in by Pija's clear beautiful voice. A nice mix between Paramore, The
Swellers and Destine to get a euro comparision in there. I bet you that if I played a song to an unfamiliar listener, they would say American or Canadian as the band's
roots due to the vocals.
Some of my highlights from this album include "Live it up", the second track, which brings guitarmonies to remember and a strong chorus. That glimpse of tech guitar
work is a nice addition and a testament to their roots. A few tracks after, "We're all in the same boat" features Nikolas Hill from Nation's Afire. His voice along
with Pija's compliment each other very well, and the message is strong as it's this young generation standing up and fighting for their rights. "Rush Hour", which the
band made a video for, is their official (first) single as it's the type of track that would be killer live! From the sing-a-long chorus to the jumping beat, you
can't go wrong here folks.
What is this crazy rock and roll music anyway... a fitting saying to end Trash Candy's album. These guys and gal delivered on these songs and it's tough to not
consider them as a breakthrough band not only in Slovenia but in Europe.
Marc / The Grind - PunkRockRadio
---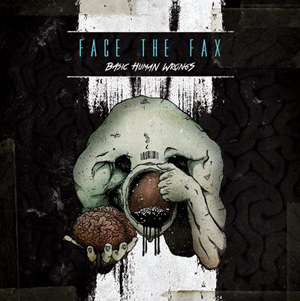 Face The Fax - "Basic Human Wrongs" 2013 - Funtime Records

There is something special about a band first releasing an album on Funtime. Following the label and its bands for a good number of years, I get a sense that the bands' motivation and drive is at an ultimate high but even more importantly, most bands cement their sound - it helps as well that Belgium has damn good studios, the Swedish equivalent to pure death metal. In the end, it's no surprise as Funtime always delivers to its punk rock legion of fans and as Hendrix once said, "Music is a safe kind of high".

In this next round of Belgian fine releases, Leuven based Face the Fax put out their latest effort in April 2013, entitled "Basic Human Wrongs". This is their follow-up to their well-received first album "When Morning Comes". If you dig fast and catchy punk rock ala AWS, MUTE, Propagandhi and No Trigger then this these guys will surely please your ears. With this new album, you get more of a mature and polished sound from these guys. The album starts off with an in-your-face shreddin' intro to "Waste of Space" so the tone is set early, ladies and gentlemen. And I must say, "No Retreat" has to be tops for me, especially the part in the 1:22 vein - it includes the second time the chorus is included and it's been on my repeat button many times. The back-ups really add to it.

Vocally, Daan on vocals has a distinct voice with his clean and raspy sound. It comes out naturally from what I hear as well; no forced habits. A bit of Nuno from AWS intertwined with Tom from No Trigger.

As for Jeroen, our dear Jero's bass lines are noticeable to the keen listener as per usual and he's the type of player that fortifies the song, adds that little "something something" in the riffs for difficulty, style and skill. He is also the guest bassist for F.O.D.'s final track from their "Ontario" album, appearing on "Decade". You don't see many guest bassists on albums these days, hence, my point.

It's the pure energy of a band like Face the Fax that keeps the scene in Belgium as bright as it is. With "Basic Human Wrongs" I'm happy with the step the band has taken, even experimenting a bit. With that being said, I truly see an even stronger album with their third release. Keep em' coming, boys!
Marcus
CANADA
---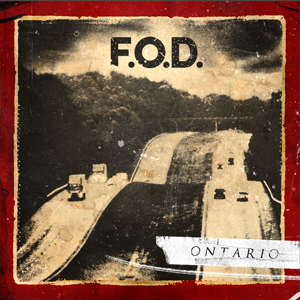 F.O.D. - "Ontario" (2013) - Thanks But No Thanks Records
In yet another example, a Belgian band has wowed me with a new release. This time it's F.O.D. (if you recall this title, see Green Day) from Lier, Belgium.

In February 2013, F.O.D. unveiled "Ontario" to the world. For me personally, it was a very surprising and off the radar type album. I knew of the band due to their work with Melodic Creative (artwork and layout) but initially, I didn't bother looking deeper. Their previous effort, the "Dance to This" EP, was solid and a glimpse into the future of the band and boy did they deliver afterward. And after hearing "Ontario" (only) a month following it's official release, I kicked myself.

As far as strong attributes, here it goes: In Hans' voice, I see a lot of Billie Joe Armstrong, Greg Graffin and even some Jasper from the legendary dutch band, Undeclinable. Anyone with a similar voice to his is a winner in my books. Also, after hearing more of F.O.D., I also realized that Hans is lead vocals for pop punk gems, The Rocket (most recent album). Busy guys these Belgians are. A mix of Hans' catchy voice, the catchy as hell melodies and the overall music's time changes bring forth a different element to the band. You won't hear any guitarmonies, crazy fast drums or breakdowns but instead a very well-written old school punk rock album. And packed with 16 songs which is rare these days! Lyric wise, F.O.D. reminds me of Undeclinable as some tracks touch serious or personal matters but others are more on the lighter side of things: "Like Them" touches on the poverty/economy/government and it's uber Bad Religion sounding which is awesome, "Frenzal Records" is entirely about Frenzal Rhomb's "Smoko at the Pet Food Factory" album and "Carry On", which they re-recorded from their previous EP, is about not letting go and knowing you're not alone in life.

I'd also like to point out that the music videos for the tracks "Frenzal Records" and "36" are very addictive to watch. Just the mere fact that they time the lyrics as they are sung and the way they capture Hans' play of words is something else.

In addition, having "Ontario" as an album title is honestly pretty cool, and this is being said from an Ontarian. Seeing a European band interested in touring this province is not the first I've heard of it but to actually name your album "Ontario", have a song with the title track about not being able to tour the province and to include main sites from the province in the CD's artwork is a different ball park all together. To complete their Canadian portfolio, a hockey anthem will be much appreciated indeed.

In conclusion, there isn't one track on "Ontario" that doesn't feel welcomed and I can say that for me, this release is already at the very top of albums released in 2013. Again, it's very addicting! At least I'm just on F.O.D. and nothing bad.

I struck gold, ladies and gentlemen, and I'm sharing it with all of you! De rien.

Marcus
CANADA
---

SLATES
The Grind PRC w/ Stacey Steel
Interview - Spring 2013
***
Hi SLATES! Welcome to The Grind PRC! I'm Stacey Steel.
SS - Please state for our readers who you are and what you play in Slates:
DT - Hi Stacey; I'm Dallas Thompson, the drummer.

SS - When describing a band to listeners who may have never heard their music before, I struggle with the vagueness of genre within punk rock. If you were to describe yourselves to some random person, what would you guys say?
DT - I hear ya. Let's keep it simple, we play thoughtful, melodic stress-rock.

SS - When people talk about the Canadian music scene, they usually mention Toronto and Vancouver, but ignore places like Edmonton , Calgary and Winnipeg. I think these cities have strong music scenes that are strengthened by their isolation, do you agree? How do you feel about the music & arts community in Edmonton?

DT - I'm not sure I follow the ignore thing. It seems to me that people are very aware of those places based on the bands and festivals coming out of them. The difference probably relates more to quantity of them and industry push behind them than an isolation factor. In Edmonton, people get out looking for new ideas and apply them in a way that contributes to the community when they get back. But the internet has also globalized things in such a way that you can be inspired to create without really having to travel that far at all.
SS - You guys have been a band for nearly 5 years now; How has your perception of playing live changed since the beginnings of SLATES, and how do you do things/deal with things differently now you've established yourselves as a solid Canadian punk band?
DT - Good question. I think if you hit the five year mark, you've sorted out how to function when things get tough. We're smarter about the way we do things, our song writing is more focused and I think we've just learned how to accept and work with each other. When you're young it's much easier for your ego to take control, which makes long term planning difficult. If I could expand on the old being-in-a-band-is-like-having- a-girlfriend metaphor, I'm happily married. For better of for worse, until it runs it's course.
SS - You seem to keep the flow of your music relatively steady; constantly writing and touring; This summer you're headed to Chicago At Electrical Audio Studios to record your third full-length with Steve Albini; You also released 'Vérité' a new single, which has a few themes surrounding the song, and was recorded 'Live off-the-Floor', mixed by Jesse Gander (of Rain City Recorders/The Hive, Vancouver).
a) Why choose to write and sing about these particular things?
b) How did recording with Albini come about for your future album?
DT - The fortunate thing about being in a band with three very intelligent people is that there's never a lack of material to write about. We're always tossing around thematic ideas and James is really great at matching them up with the mood of the music. To the second part of the question; Recording at Electrical is something we've all wanted to do as musicians, and you can imagine my enthusiasm as a drummer. Once we decided we wanted to make it happen for the next album, I literally just called them up to see if his schedule would work out. And by call I sort of mean hounded, until we went from being on the board to scheduled in.

SS - What were your ambitions when you set out to write your upcoming album? What should we expect from it, more of the same theme?
DT- Anyone who's been paying attention to the band has probably noticed a slow musical evolution. As far as themes go, we've been riffing a lot on animals taking out humans and the illusion that we're at the top of the food chain.
SS - You have performed at some unique places around the globe, Cuba and Bosnia are two that have been mentioned in previous interviews. Do you plan on stretching out further into the world (Aside from Canada) with your music once your third full length is recorded?
DT - We'll definitely get out there again on the new record. At this point, it's balancing safety and exploration with places that we'd like to continue building upon. We've got a few opportunities to play some pretty unique places and if resources allow, we'll do it.
SS - Slates just wrapped a small western Canadian tour earlier this spring; You also have a few tour dates trickling through the music grapevine; May 17 2013 in Calgary, and June 21 in Whitehorse YT; Do you have anything else coming up that you wanna add to the Slates' tour radar?
DT - We're in the middle of a pretty extensive western Canadian tour right now. Besides a few things here and there, this is probably the last good run before LP3 is ready to go.
SS - What are some new bands you have been listening to lately that we should be checking out? Has being on tour introduced you to some great new music or artists?
DT - For sure! Tour is always great for that, especially because I get pretty lazy when it comes to checking out new things when I'm at home. A short list of my faves in the past year or two would be the Italian hardcore band La Prospectiva, Arrabio (Cuban hXc), Radare (German post- rock), Currents, Losses and the Greys (some new Canadian post-punk).
SS - Music, politics, and social issues are often linked so people can speak freely about those issues and promote being active. What got you involved? How did you develop your passion for addressing social and political situations, and your sensitivity to those issues?
DT - I started by helping out with Food Not Bombs shortly after arriving in Edmonton and formed an animal rights group with some of those friends a few years later, when I was at the University of Alberta. Like everywhere else, the province we live in has some very questionable policies and once you're turned on you can't help but be aware of the change that needs to happen. I really like living in Alberta and I'd love to see it progress forward, beyond this entitled fossil economy anyways.
SS - What would you say about your live show to convince readers to come out to your shows this year?
DT - It's important to support live music in general. SLATES wouldn't be here without people being open to the chance that our music might resonate with them.
SS - Anything you would like to add to the end of our interview for new readers and veteran fans?
DT - Keep on chooglin'.
+++

* You can grab music by Slates on their Bandcamp page

Catch up on everything Slates' have going on, head to their website.

And as always, for the masses, SLATES on Facebook.

SLATES are playing Calgary; at Broken City, May 17th 2013
---
Torches To Triggers - "Doomsday in Douglasdale" - (Bells On Records / Sums Records ) - 2012
September 2012 - Stacey Steel for The Grind PRC
Release Date: October 12, 2012
12 tracks
+++
I'm going to tell you from the start - I was a pretty big fan of some of Torches to Triggers other projects (ex-This is a Standoff / One Shot Left / and current Obey the Fist etc), so this review may be slightly biased and uncensored; These guys are some of the coolest cats; and extremely talented musicians to beat. When I first heard about this project created last year, I was affectionately excited to see what was to come of it.
I first saw Torches to Triggers perform for a special New Years Eve bash in Calgary this year, hosted by none other than legendary skatepunk/metal rockers Strung Out.
Torches had formed just a few months earlier, but excited about the news, they eagerly put together a solid set for the show.
Since then, they have already gotten the wheels turning in a huge fucking way. The band threw together two album teasers: "This Moment" and "Countdown", toured outside Calgary earlier this spring, donated a song on to 'Canadian Punk Compilation "If Riffs Could Kill" (Volume 1)', alongside other great bands: Soiled Doves, Cricket, Booze Cruise plus several others (and, dear readers: check that comp out too, it totally rips), and played several local shows to positive reviews. Oh, and not to forget; they recently signed on with Bells on Records, and Sums Records. 2012 seems to be their year.
'Doomsday in Douglasdale' was recorded July 2012 at EchoBase Studios with producer Casey Lewis. Tapp also playing a hand in producing it. The album was mixed and mastered at Studio 73 (Italy) with Riccardo Pasini. I was quite impressed with the production on this record, it sounds very crisp and very clean.
They chose well, and it shows on the debut: This is their auditory canvas.
In control of it's own fate and without any outside pressure, 'Doomsday' is Torches to Triggers at their first jump – a record that's equally intense as it is exquisite.
The lyrical content is well-written by vocalist Chris Kreuger, heartfelt and strong; both Stilwell and Spate's guitar licks and technical riffs make a perfect setting for Kreuger's vocals to soar throughout the album; Tapp's bass playing is heavy, unrelenting, and drives the majority of the songs; Schumacher's drums keep perfect time to complement the sound without slowing down. The track 'Countdown' provides the arena for Kreuger's voice to excel.
12 songs of ripping melodic hardcore. Elements of their previous and current projects lightly filter through this recording to create a surprisingly refreshing sound. 'Doomsday'' showcases deep, driving bass lines, fast change ups, guitar solos and dimensional harmonies throughout.
The last 3 tracks for me stand out the best, personally my favourites on the album.
Fast and ferocious, the last song 'The Voice Inside' an unforgiving track about staying positive and true to yourself, that has Kreuger exclaiming, "Living up life is for the moment; Clutching it in your fist and own it" pumps you right up.. 'Kitchen Party' is a fun punk-toned song about partying, chicks, drunk on cheap beer, anticipating safe sex and french fries.
There may not be one single standalone cut on 'Doomsday', but the album is arguably likeable, competent, evenly stacked, and practically filler-free.
Both pit fiends and hardcore punks can find something on Doomsday in Douglasdale to get their hearts racing, if not everything.
Keep an eye on these guys, I definitely see a massive future emerging out of the doomed suburbs of Douglasdale.
4/5
Stacey Steel
twitter.com/staceyPRC

---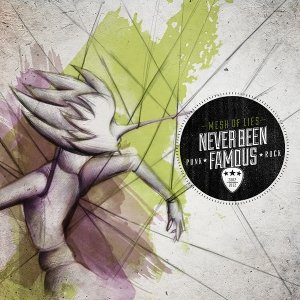 Never Been Famous - "Mesh Of Lies" - (Bells On Records - Japan/Indie in Austria) - 2012
After a few years of writing and weekend studio time, the guys from Never Been Famous (NBF) officially released their first album "Mesh of Lies" on January 1st, 2012. As the saying goes, "Patience is a virtue but time is gold!" And with this album, you really get a sense that there was no rush in putting it out until everything was done properly from A to Z. And might I add that it came out in a beautiful digipak. (In terms of their independent Austrian release)
As a follow-up to their 2007 "Charged" EP, which was more in the "punk rock" vein, the guys wanted to add more variability with "Mesh of Lies" and you can hear it from song to song with punk rock, rock, metal and even ska. With that being said though, the overall sound can still be compared to bands like Strung Out, No Trigger and A Wilhelm Scream. It's always important to stay to your roots and play what you love; these guys still believe in their musical roots which is key to their success since 2002. Another turning point for the band is when their bassist and friend Jo left a few years ago (after the "Charged" EP) due to personal reasons. The guys were in need of a bassist but instead of getting a new member, Tom simply switched to bass (previously on guitar, the band had three guitars pre-"Mesh of Lies"). The point I'm trying to make is that the bond between the NBF members is very strong, since childhood, and adding a new face was never in the plans.
The first track off the album, "The Canadians have huge squirrels though", is a track dedicated to a Canadian… yours truly. It contains moments of ska and straight up punk rock. Lyrically it has many inside jokes but all in all it focuses on the following: South Park references, our huge squirrels in Canada (and the fascination that Europeans have over them), and a member of NBF mistakenly only saying "Back" during my interview with the band in Steyr in 2009… the member saying that he played guitar and "sung a bit". So as you see, this first song is lyrically, a fun song, and the first for NBF so it was sweet to see the band go that route for a change. The remaining songs from the album discuss important aspects of our society such as the economy, the music industry, poverty, law enforcement and even love. But nobody should label these guys as "emo" or they'll have to answer to me and our huge nut eating squirrels.
"Try To Be", the fifth track and a favourite of many, can definitely be categorized as the single on "Mesh of Lies". Vocally, Jan has a different delivery compared to other NBF songs I've heard. And another sweet part of this song is the bridge and let me say that the guys put an emphasis on them, a very strong point of their song writing.
On "No Antidote" I definitely hear some Jack Rentokill from Jan around the 1:08 mark. The tone and the way he delivers that line is so similar to his fellow countryman. Moving further, "Telling the Truth" is my personal favourite due to the strong-willed lyrics and fantastic melodies; simple yet it "meshes" well as a whole. At this point of the album, you can really tell that the guys have a lot going on musically which can be attractive to many ages. Near the end, you get "Club of Desperation", which is a track the band released as a demo a few years back and due to its popularity and ska'ish inclusion, it was a definite keeper, and it's all about the chorus in this one. In ending, NBF deliver "One By One" which is the most upbeat track on the album. Finishing with a bang, not a quickly written acoustic!
After a full listen or a few, you'll notice that this album can simply be categorized in one word: quality. Recorded by the mysterious wonder known as "Master Schnippl", it makes you wonder why most bands need to record at the $$$ studios. "Mesh of Lies" will open many new doors for NBF and I can already tell you that they aren't shutting anytime soon.
Marcus
CANADA
---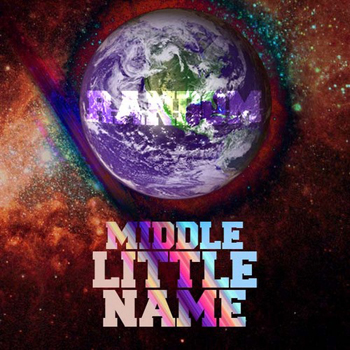 Middle Little Name on Facebook
Middle Little Name - "Random" EP - (Digital Release) - 2011
In a society with over 237 million + people it's no wonder there's a ton of great music coming out from Indonesia. But in terms of punk rock, it's slowly getting its tracks into the ground with bands like Middle Little Name and Natalie, for example.
On their latest effort, the gentlemen from South Tangerang released a digital EP in late 2011, entitled "Random". Containing three songs, it focuses on mid-tempo and fast pop punk gems.
An important aspect with bands outside of Europe and English speaking countries is vocals, and with MLN you get that North American feeling at times but with that accent which is a key factor for me. I hate when bands try to sound more "American" which is the typical sound bands try to achieve. It's important for bands like MLN to "keep it real" and sound original via their English style, which is very good I might add. When the formula works, stick with it.
From the first listen, I realized that these guys really knew how to play their instruments and it just shows that even from far away, punk rock is learned and practiced like any person. The song writing is also high up there, even with many technical parts. MLN's goal is getting that melodic vibe and they mastered it. "An Option" starts up the EP with the way it should be, fast and tech. As I said before, these guys know how to play and the guitar work especially and cohesion between members is nice to hear. Back-ups stick out for me as well. "Hear Me" is definitely the single for this EP, if there ever was one. It has a strong intro and it's your true pop song of the release. And to finish off there's "Stop Dreaming Without Doing Something" that got me thinking of Rufio a lot, never a bad comparison.
Keep an eye out for MLN to keep coming in full force as they got another release up their sleeves. They don't have a shortage of people in their country but a shortage of punk rock lovers indeed. Perhaps they will change this but I feel it's already in the works as Indonesian bands already have big followings.
Marcus
CANADA
---
Redcloud - "This Is Of The Essence" - 2012
It's becoming more of a predominant attribute these days for front men of punk rock/hardcore acts to do their own thing with an acoustic guitar and their voice. It's pleasant to see how these artists get back to the roots of music, no distortion, just heart and soul. This is where you truly see an artist's fine attributes. It makes one reminisce about the events that touched their lives in any way or form, good or bad. And as "The Man in Black" once said, "The best way to say anything is just to say it."
"Red Cloud" is an acoustic project of Teun Van Aerschot from Funtime acts Break of Day and Generation 84. With his unmistakable voice, you can clearly see where the fire lies within this composer's creative side. For example, the track "Pass Me By" already sounds to me like a "teun" that another artist would want to cover. Its upbeat and catchy lines would be a classic at my cottage! Then you have "Of Horse and Man" which shows the influences from Cash, especially via the dialogue and honestly, just the story itself is like a Western cameo.
The highlight for me personally is the final track of the EP, "Canadian Summer", where Teun provides us with the side of Canada he saw during his summer's stay a few years back. Lines like "Let the mountains grow on you. See the everlasting waterfalls, fall into a world of blue." or "Let this beautiful country fill your soul with tenderness." are simple yet touching words that show a heartfelt love for the place. And heck, I haven't even ventured out to the West of the country and this song supports the claim that Canada's West is truly picturesque.
There's been a string of "newcomers" in the acoustic spectrum this last year, from the likes of Steven Rawles to Giò Sada, and now I'd put Teun Van Aerschot in that same category, in hoping that more is to come like his counterparts mentioned prior. One thing is certain, by now we all know that whatever project Teun's involved in will have quality written music.
Marcus
CANADA
---
Cobra Skulls - "Agitations" - 2011 - Fat Wreck Chords
Over seven years Reno NV's Cobra Skulls has morphed from basically an Against Me! soundalike to a punk rock band with a refreshing and unique sound they can call their own.
Yes; I do feel it necessarry to get the Against Me! comparisons out of the way. Is it just me or did their first few releases sound a little too much like AM? Could be coincidental; I don't know - but at first listen to this band it was a little too uncanny for me to get into them right away. I'll admit, I didn't give them the proper chance at first- they've grown on me with time. Their second album American Rubicon showed us what they were capable of moreso than their debut album and original pile of EP's. That isn't to say they've completely changed; while they've come a long way, it isn't too far of a departure from their original sound - I hear a lot of Tom Gable in Devin Peralta's vocals; but the similarities pretty much stop there on this album. In fact, I hear a lot of Bad Religion and Descendents in these songs, even stuff like the Adolescents. That could be just my opinion (and feel free to give me yours).
But it still sounds like Cobra Skulls.
This isn't only a great followup to their last album but, in my opinion, it's their best album yet. For the most part it's a faster, more abrasive, raucous set of songs than previous efforts - it's also their catchiest. Agitations is a fitting title, too. Devin Peralta unloads his societal frustrations on us in angry, raspy two minute lectures - which come off as sincere and never a bit preachy (a complaint I have with many bands of this ilk). The vocals come through much clearer, due mostly to better recording conditions; and the whole thing contains more harmony, more melody - more substance in general. Also all the songs are in English on this one! Fuck you, that's a plus to me.
Besides every track being a toe tapper, I gotta give it to these guys for continuing to experiment beyond just playing straight up three chord punk rock. While most of the songs fall into their distinct style, we see them briefly bounce in and out of genres. There's a moment of ska in the middle of "On & On", which lasts maybe ten seconds. "Drones" turns into a straight-up lounge song for a full verse before bursting back into frantic skate-punk. These moments of experimentation are few and far between, but it contains more genre-bending and time-shifting than most bands these days are willing to cram into songs that rarely exceed the two minute mark. They do take a breather to close the album with "Believe", an acoustic folk number with (maybe just a hint of) celtic influence.
My only gripe with this album is that at 13 songs in 26 minutes, it's bloody short. Only a few minutes longer than some of their previous EP's. It feels complete; and they never break the pace until the very end - but it did leave me wanting a little more.
What more to say about this album? Cobra Skulls have continued to mature and if this is a taste of what's to come, I'll certainly be paying more attention to these guys.. If it sounds like I'm giving this too much praise; I'm not. It's not the best album I've ever heard, or even heard this month, but it's their best yet and I'm definitely impressed at this band's growth.
3.5/5 snakey cobrafaces.
Awesome F. Gorgeous
twitter.com/awesomegorgeous
---
Dead To Me - "Moscow Penny Ante" - 2011 - Fat Wreck Chords
Dead To Me are a punk rock band from San Francisco, and I can think of no better or less redundant way to describe their sound to you than San Francisco punk rock. That said, they've had a fairly diverse output thus far.
I'll keep the history lesson relatively short: Dead To Me rose out of the ashes of One Man Army in 2003 (though it should be noted that neither of the founding members from OMA still play in this group); and released a very solid debut album in 2006; which I still play fairly often five years later; doing this type of melodic, hooky, introspective SF punk. 2009 saw the release of their second full length, African Elephants; which was a huge departure from the first album and EP's- here we saw them dabbling in Clash territory with reggae and dub sounds, horns, and a much more political direction.
This is worth mentioning because 2011's Moscow Penny Ante sounds a lot more like their debut. While I appreciated the experimentation of African Elephants, I didn't find it to have the same replay value of Cuban Ballerina. Despite several line up changes since that album, here we see the band returning to comfortable territory.
I can't say this album sounds just like the first, but they are sonically similar. The only unique sounds here are the occasional xylophone tinkling and ska-style-downstroke-full-of-reverb. There's a lot less studio trickery here- which in my opinion is always a good thing. Tyson and Ian are still a brilliant rhythm section- but I gotta say with the new members Sam and Ken (both on guitar and backup vocals) Dead To Me are undeniably much tighter than before. There's a natural sounding chemistry in the band now that goes beyond just being able to keep up with each other. The guitars compliment and play off of each other nicely throughout the entire album, and as always Chicken's sweetly sour voice holds things together most of the time. It's become apparent at this point that his delivery, along with the abundance of backup vocals, are the main ingredients in Dead To Me's sound. This sensibility for song-structure and sweet, sweet harmony is what give the band 100% of the character they have.
Thematically, this album continues in a social/political direction (see "The Evolution Will Be Tele-Visualized", "The World Has Gone Mad"); yet still maintains the personal aspect that seemed to be disappearing on the second. With Dead to Me, I still prefer the instrospective stuff: "I Love My Problems" and "Dead Pigeon Tricks" are great examples.. While not every song blows me away musically, I feel they've stepped it up a notch in the storytelling department- I enjoy both styles. Lyrically, think Against All Authority with the literary touch of Lawrence Arms or Jawbreaker Personally I find "The Trials of Oscar Wilde" to be just a little on the awkward side, but hey; the other eleven songs on here flow pretty smoothly.
It's hard to decide at this point exactly where I stand with this album. It's good- hell, it's great- but for a return to their original sound, I'm not sure it packs the same punch as the debut album and Little Brother EP did. A few dozen more plays and some shelf time will tell. Decide for yourselves, kiddies.

4/5 fingers crossed is doesn't end here.

Awesome F. Gorgeous
twitter.com/awesomegorgeous
---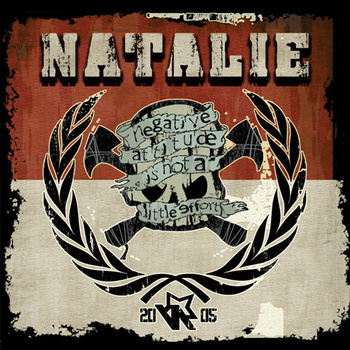 NATALIE - "Negative Attitude Is Not A Little Effort EP" - 2011
Album Review by
Stacey Steel
January 2012
After finding a sliver of 'spare time' , I decided it's high time I do another written album review for The Grind.
I asked my host Chris Burnside to hook me up with a new album, and in doing so he not only chose a great band, but one who's language that is all but alien to me.
Considering writing is NOT my strong point, having recently read the previous entries by other contributors to our site, and knowing how long it had been since I last reviewed an album on here, I wanted to chime in my 3 cents worth. I was up for the challenge!
NATALIE
Hailing from Jakarta, Indonesia, the band 'Natalie' ('Negative Attitude Is Not A Little Effort), was formed in '05. Their sound has evolved considerably through their career, starting with a blend of grunge and punk, then taking on a much lighter brand of melodic pop-punk as the years progressed.
Their EP "Negative Attitude Is Not A Little Effort." features 6 new songs, (3 in English, 3 in Indonesian), including the previously released "Better To Be Silence." Natalie record the effort at Vandal Destructor Studio in Cengkareng, Jakarta.
After listening to this album off and on for 2 days straight, it does become easier to recognize the similarities that exist among punk, alternative, metal, indie, and hardcore.
These similarities are the reason why bands like 'Natalie' exist. The new album displays growth and an overall tighter focus for 'Natalie', exposing themselves to a lighter frame of music.
Negative contains a much greater variety of guitar lines and maintains the interest level in listeners from start to finish.
But Negative still does very little to distinguish the group from their influences or their contemporaries. Their sound is still fairly archetypal for their genre, and they don't take any big risks to try to do something unique or progressive. It is true that punk is usually not a particularly 'progressive' genre as a rule, but with so many young, aspiring melodic punk bands appearing in recent years, 'Natalie' will need to do something to stand out from the rest.
Putting the lack of being extraordinary aside, though, Negative is a good album for 'Natalie', and it makes sense as the next step in their development as a band. After many line-up changes, they've figured out the framework of the sound they want to make: lighter, fresher and with a positive feeling; while smoothing out the flaws in their music and firming up the basics that needed work.
Most people listening to melodic punk aren't listening because they want to have their minds blown. In that sense, 'Natalie' is doing exactly what they should be doing with their music. Addictive melody, lyrics and heart haunting delays, provide the strong support that will carry this band's growth potential..Hopefully the group can uphold that consistency moving forward, while simultaneously fleshing out their identity as a group apart from the rest of their scene.
I am, however, duly impressed about the mix of English and Indonesian songs, even though I didn't know what they may have been singing about in their own language, I could feel it, as those of you involved in music, or as a musician would know what point I am trying to make.
Negative represents, what hard work, dedication, empty pockets and a struggling family life in one of the most poorest countries in the world could provide in return…motivation to do it even better!
'Natalie' are currently recording their next full length album, which will hopefully be released mid-2012. Definitely a good new(ish) band to keep your ears peaked.
Stream the whole EP on their Facebook page.
.
For fans of: No Use For A Name, Nirvana, NOFX, Greenday, Alkaline Trio, Anti-Flag, Rancid, Social D, The Ramones, The Vandals
-Stacey Steel
CANADA
---
Belgium may not be in the best situation these days with an unstable government and tension between the North and South but one aspect of the country never changes: the quality of its punk rock. As I have said many times before, it seems that new Belgian bands continue to pop up every few months. State of Mine is a prime example, as they continue to evolve in their sound, even as a young band. Like the majority of Belgian bands, they have that raw sound, snotty vocals, and humour in their songs. They are also comprised of members who are entrenched in the scene, so they know precisely what buttons to push.

"Accelerate" is the band's latest effort and is a completely DIY-recorded album, a fact that the band does want to be made known. The last we heard from these guys was in the form of a split CD with The Octopussy's (also from Belgium). You can expect the same formula from the band's sound this time 'round, although Jo puts more emphasis on his snotty vocals with this new set of songs. His message touches more on everyday issues while continuing to hold on to the sense of humour from their earlier work. And vocally, he also reminds me of Mark from Guttermouth in terms of delivery and effort. In other words, there is no hiding what the central message is in each song.

The songs on "Accelerate!" are all in the range of two minutes or less, which brings out sort of party punk, "go go go" feeling: A.D.D. people take notice. One of State of Mine's most captivating qualities is the bass lines, which are all heard very well throughout the album. Unfortunately this is an aspect lacking in most releases these days. Adriaan (who doubles as the band's drummer and the album's producer) did a good job getting the bass out of the cellar so to speak. And the maestro in this case, Jero, shreds on bass (ala AWS) in songs like "Eye Candy", "Mc Know It All", "666 Club SOJO", just to name a few.

If you enjoy skate punk similar to the 90?s Swedish scene or bands like Turn It Red, and Belvedere, then there's no way that you shouldn't buy this album. And by checking these guys, out you will learn more about the glorious Belgian music scene, which is like a party 24/7. There are no losers with this deal.


"Listen mate, what are you talking about? There's no cash here, here there's no cash, alright! Cash No!"

Behind a great band, there's a great movie quote. Well, at least with Cash No! there is. What better way to start off a release than by having your band name quoted from a pretty fucking sweet movie. The quote at the beginning was from the Australian movie "Chopper" which received positive reviews when it came out about 10 years ago – a classic!

Cash No! from Melbourne, Australia are quite a new band when it comes to skate punk in the magical and far away land of Oz. The first time I heard these guys the idea of 90?s Swedish skate punk came to mind. If you like Adhesive, for example, then you're safe to read the rest of this review. If you don't know Adhesive, you have much to learn. Other bands that come to mind when listening to the "Something for now…" EP are Aussie punk legends Wiseheimer, and definitely that Fat Wreck sound from Strung Out and NUFAN. Aren't all bands somewhat influenced by the latter though?

With Louis (vocals), what I like about him (and other skate punk vocalists in Australia) is that he sings with a slight Aussie accent that isn't too intense, but just enough to know you're not listening to the usual Canadian/American singer. In terms of the recording, and again for a first release, it's quite high up there in my books. I say this especially due to the fact that drums, vocals, and guitars were each recorded in a different location, even in a member's bedroom for example. On the technical side of things, the guitars are amazing and the band plays very tight! And metal influences are definitely heard in the Cash No! sound so you have that aggressive side, similar to Strung Out's overall sound. This release has a 8 solid tracks and for an "EP" this is no shabby first official release. These days I honestly don't know many bands that record 8 quality tracks for a first mini-album, if you can call it that. "Track One" as it's appropriately called, does not have a long intro or anything of that nature. You get right into the song and it immediately gets you into the energy that Cash No! would deliver on stage (lucky Australians!). Back-ups are really solid in this song, the clean and screamy ones. Additional screams were done with the help of a friend of the band, just so you know. The solo/guitarmony sequence from around 2:14 to 3:18 makes you say: Fawk yeah! "Falling Down" is the first song that the band unveiled prior to the "official" EP release and it's definitely a fast-as-fuck and energy kicker one, although it's short but remember, this is skate punk. "Domino's", immediately afterward, pretty much continues where "Falling Down" finished. If you don't pay attention and/or don't follow your CD display menu, you won't notice that it's a new song, ha – highlight in that one btw = bass solo! The bass is actually a big part of all the songs as you'll see, a nice change. "Sound Off Like You Got A Pair" sounds like a typical metal track with its intro but don't be fooled by the kick ass intro (for you "I'm only into punk" fans). Moving forward to the last track, "If I Agreed With You We'd Both Be Wrong" has the best melodies from Louis and it carries the guitars so well. I also realized that Cash No! are pretty damn progressive as a band so you can put that in their "genre". In general, I like the fact that the band does not stop one bit for their last song; they keep it fast just like how they started off with this gem.

In ending, the Australian punk rock scene is understandably the scene least looked at due to its lack of proximity from… anywhere. And this is a shame because when it comes to skate punk, Australia is definitely churning out the best bands these days. Cash No! is new proof that European punk rock influences live on down under and many bands still believe in that. Like their brothers in arms Wiseheimer, Local Resident Failure and LAST, there is no need to panic in Australia. I end by saying, Heath Rowley, we all miss you, come back!
2010 has been a great year for the melodic hardcore genre and the Italians seem to be leading the pack with a close-knit scene. It ain't just about music but about the sense of belonging to something special, a family of sorts.
Thanks 4 All The Shoes (T4ATS), a no-bullshit, politically and socially driven band from beautiful Fabbrico-Novellara have a new album out and man, does it shred! "Celebrating Falsity" definitely surprised many in the punk and hardcore scene. From their 2008 DIY EP "Reaction Starts From Consciousness" to what you are now hearing in 2010, it's a testament to the years of playing live with fellow Italians and yet still gaining the knowledge to do their "own thing". T4ATS can be classified under different sub-genres such as punk, melodic hardcore, hardcore, and thrash punk/metal. The latter is a key factor that the band incorporates and experiments with a LOT in their tunes. They mix it just as well as another band that called it quits way too early, Until The Fall. Like them, you could feel the passion/energy in their instruments. But in general, if you are a fan of Propagandhi, Strike Anywhere, Belvedere, or newer shredders like Waiting 4 Better Days and IVS…then you'll dig T4ATS.
"Celebrating Falsity" was recorded with none other than Alex (Jet Market drummer) at Hell Smell Recordings, in Italy. This guy is definitely making a name for himself lately in the European melodic hardcore/skate punk scene. As I said before, shreddin' is what you'll appreciate the most from this Italian band and you can really hear the guitars and the riffs like you were right there. It'll make you get shivers down your back and on top of your head. From the get go of the album, the guys focus on the trash punk/metal side, letting go of the vocals for this one. Their song "Home Is Where Bombs Rain" will stick in your head for weeks, and is a great example of the band's political views. Also, "Death As Business" starts off with technically driven drums and throughout it Lorenzo put his A-game on the kit. This is a track that I'd love to hear live!
Let's all hope that T4ATS do not lose this edge in their writing style, and same goes for their brothers-in-arms. This is a more than solid first full-length release so if they eventually top it or not, it's a success for them. And please take note, if the shred-factor does not get the blood in your body pumping, well chances are that you are already passed out.
"Best of" collections are released as a means to give new listeners a taste of a band's material. Top Contenders marks their twentieth anniversary as a band and seventeenth on Fat Wreck, and is a lot more than just a Strung Out starter-kit.
I'm really not sure how many new fans these guys are still picking up. I may be a bit outta the punk rock loop in my old age but I haven't heard too much hype around them in recent years.. or ever. But hey, if skatepunk/melodic hardcore is your bag, check out Strung Out - they're a lot fucking better than Rise Against!
Now, I've rocked every one of their albums- their first few served as a soundtrack for much of my high school years and I've checked out the last few more than a couple times. So as a long time fan I was reluctant to sit down and listen through essentially a mixtape of their songs; but long-time listeners need not be turned off; we get a little more than that.
Kicking off with Firecracker, the first track from their second album Suburban... (and the song/album that introduced myself and many others to these guys in the 90's) the difference in quality is noticeable in the first ten seconds. In fact, every song here is freshly remastered, many would be passable as re-recordings. We can hear rhythm guitars and bass tracks that were barely audible on some of these earlier tunes, which is nice. All the songs have been mixed to the same studio settings to give the compilation an album-feel.
To compliment that new album smell, we get three new tracks. Too Close to See and Here We Are are catchy new tunes that would not sound out of place on one of their more recent albums. Saturday Night, my favorite of the three new cuts, sounds VERY similar to the Strung Out I knew and loved back in the day- fast and slightly thrashy, with a great breakdown in the middle.. But there's still something missing.
Maybe I'm pining for something heard only by my teenage ears, or maybe I've just heard so much of this (band/genre) it just doesn't do it for me anymore. Don't get me wrong here- the three new songs are great, Cruz' vocals and the band's overall sound have not strayed TOO far over two decades; but maybe it IS time for just a little more growth and experimentation. Still totally worth listening to but let's just say, in recent years, Strung Out get me hard, but they just don't make me cum.
For those of us long-time fans, Top Contenders is a nice collection of our favorites, nice n' shiny polished for our discerning 21st century ears; but you may be more interested in 2009's 'Prototypes and Painkillers'; a collection of b-sides and EP tracks. As far as the new material, there's nothing groundbreaking in those three songs but we can be sure that Strung Out have not lost their steam. If there was ever any doubt, this gives us reason to believe Strung Out have at least a couple more decent albums left in 'em.
However, for you kids whom this release is intended for, who haven't already heard what this band is all about- this is a must have! Buy it, buy two extra copies for your emo girlfriend and that skater kid you buy pot from. This may not be THE definitive punk rock group, but I can refer to them as a classic band without feeling like a douche.
Another solid release from one of the better bands of the early 90's Fat Wreck Chords camp.
3.5/5 thumbs up your ass for Top Contenders from Strung Out.
I'm out.
With Perseverance and dedication, Fall of Man have come a long way since their humble beginnings. Case in point, the Greek melodic, metal-infused punk band's first album was delayed for years before finally getting released in early 2011. With Fall of Man you get a healthy dose of punk and metal, with some good ol' rock (especially in a few intros). Like many up and coming acts, there are no shortage of comparisons that can be traced back to their local contemporaries. I personally find that in Greece, the legendary Vodka Juniors often has a presence in a band's sound. Heck, they've been around forever so no surprise there.
On "Promises in Empty Words," which is the band's first official release after a slew of demo songs put out here and there, the guys did not go for 100% straight up punk or metal album. Instead, they have a ton of variation in their song writing (kudos to Ion) and wind up with more an amalgamation of both genres. Most of the tunes on this album are 4:00 minutes and up so you get your money's worth in the end. This release could technically be labeled as an EP with 8 songs but due to the length of the songs, it's clearly not. Think of it as a metal release: less songs but a ton is packed into each of them.
One of the first songs I heard from the band was "Silence," which is also on the album. This is the track that originally got me hooked on Fall Of Man. Having a smooth vocalist also really helped in capturing my attention. Ilias, on rhythm guitars/vocals, has this "No Motiv" tone in his delivery that has a very North American feel to it. For many new fans, I am sure Greece (or even Europe) will be the last place they think of when it comes to their origins. I dig key elements like this since it brings attention to a scene that is well worth learning more from. For a young band, these guys have experimented a lot with their sound and are certainly on the right track. I personally can't wait to see what the future holds for these young guys and I'm sure that they've already got a handful of new songs brewing.
Yet another country that will surprise you with its strong yet very small punk rock contingent. In general, the Hungarian music scene is quite a downer and although punk rock is not what it's all about in that part of Europe, and yes unfortunately it's techno and pop (trust me, I have been there), the bands are definitely there if you dig quality acts.

I've been following these Nikson boys from Gyor for a good number of years now so when the chance came up to write some words about their latest effort, "Preachers Go To Hell", it was a no brainer. This most recent album tends to have less of the shred and faster tunes and focuses more on the pop punk/rock and I guess a greater radio-friendly side, all while keeping their song writing as stronger and even better in my opinion.
A notable reason for this is that the band has two lead vocalists; a definite highlight. Marcee and Oliver have two distinct voices therefore it's interesting to hear their song structure since there's a lot of open possibilities. Reminds me of what Dillinger 4 and the Laurence Arms have working with their vocal tendencies. Lyrically, Nikson write about life experiences which focus primarily on love and relationships, for instance. So even though it's not happy toned lyrics, the music makes up for it with its above average melodic sound. Nikson have also written about those types of lyrics since the start so it's not like they are trying to change what they do to get bigger; it is part of their plan when writing some new work.

The overwhelming single on the album is without a doubt the easy flowing "I was Thinking…" and the guys have a music video for the song to boot. At track 9 "Lost My Friends", one of the band's fast-as-fuck songs, is a prime example of both vocalists using the opportunity to go back and forth with transitions; love this! A little after, "Leaving" simply owns with the bass lines. And I can't forget "Listen To The Songs" which is my pick for top chorus due to its memorable stay-in-your-head lyrics and honestly with the song being acoustic, you can really appreciate the heartfelt message.

With a strong contingent of acts like Reflected, The Idoru and Fekete Teve, Nikson are not alone in the spotlight. And being in a small country, bands need their brothers as much as they need themselves since when one band succeeds, others benefit from the exposure. All in all, Nikson are writing machines and this formula is working so as they say, "if it ain't broken, don't fix it".

Marcus
CANADA